What the Heck is SiteBuildIt?
You ever had one of those "ah-ha!" moments? 
Here's the thing that really got me.  It was so simple and so obvious, but I'd never really figured this out before.
(If you came here from outside this website, read my story first)
SiteBuildIt! (a.k.a SBI!) is based on a simple, logical premise. SBI! calls it CTPM.
It stands for Content=>Traffic=>Pre sell=>Monetize :
Doesn't that make sense?  You create information people want, you attract people that want to read that content, you "pre sell" them (I call it building a trusting relationship), and then you earn money offering them something of value.
I was still skeptical...
After all I'd already tried so many things that sounded good but were doing squat.  I didn't buy then and there.  But I couldn't get it out of my mind.
I went back and watched the SBI! video tour, and I even emailed a SiteBuildit site owner to ask some questions.  The woman I emailed was really nice and she said exactly what everybody else said in the case studies.  She said that SBI! made all the difference for her and made it so easy.  She said it would take work on my part of course, but I wasn't worried about the work.  I knew I could apply myself if someone could just show me exactly how to do it.  
I suspended disbelief and jumped in (even though I still sort of suspected that I was being taken for a ride... )
I ponied up the $300 a year it would cost me to get an SBI! site.  They said It would include everything I needed - web pages builders, form builders, an autoresponder so I could send out newsletters, and teach me how to actually get people to visit my site. They promised if i followed the instructions, I'd have a site in the top 1%-3% of all sites on the 'net.
In retrospect the cost was nothing since it works out to about $25 a month.  I mean, what other business can you possibly think of that costs less than $30 a month in expenses?
What I Did That Worked
I started going through the step by step SBI! training process.
They have it laid out in "days".  You do everything at your own pace, and there are written steps as well as video so that you can learn the best way for you.  I ended up watching a lot of the videos in my kitchen on my laptop as I cut up toddler snacks.
It was a huge relief not to think for awhile.  I just followed the instructions.  At least now it seemed like I had a clear path!
Fast forward a few months after beginning my SBI! journey.  It wasn't a quick journey.  It certainly didn't make me rich overnight.
The first 5 steps of the journey don't even involve having a website.  At first it's all about preparing to have a website.  They gave me the tools and training to do market research.  I remember it clearly.  It was in October of 2007 that I finally figured out what my site would be about and I got started on the actual building process.
I continued following their step by step instructions, and I was amazed that everything happened exactly as predicted!  The first month I started documenting my jewelry making as I went along.  I was making things anyway, so it wasn't a big deal to take some pictures as I went along.   I made a few web pages using their no-tech page builder tool. 
I got 5 visitors the first month and 19 page views.  I was dubious, but I persisted.  
The next month I built a few more pages.  I loved it because it gave me a "productive" reason to be buying beads and making things.  I felt creative and excited again.  Babies are rewarding, but your mind kind of shrinks as you keep picking up the same toys over and over again. 
That month I got 264 visitors.  By the third month, (as they predicted!) I received more than 30 visitors a day and could start monetizing with google ads and other revenue sharing programs.
So I continued on, even more excited than before. Every month I built a few pages during my kids nap times, got more visitors, and started implementing the other strategies they were teaching me. 
I started building relationships with my visitors through my newsletter. 
And then a miracle happened.  It least it seemed like a miracle to me. I made my first $100!
(the above link goes back to where you left off in my story)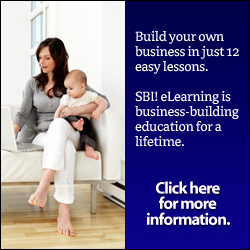 Return from SiteBuildIt! to my Work-From-Home-Story
Return from SiteBuildit! to the How-to-Make-Jewelry Home Page